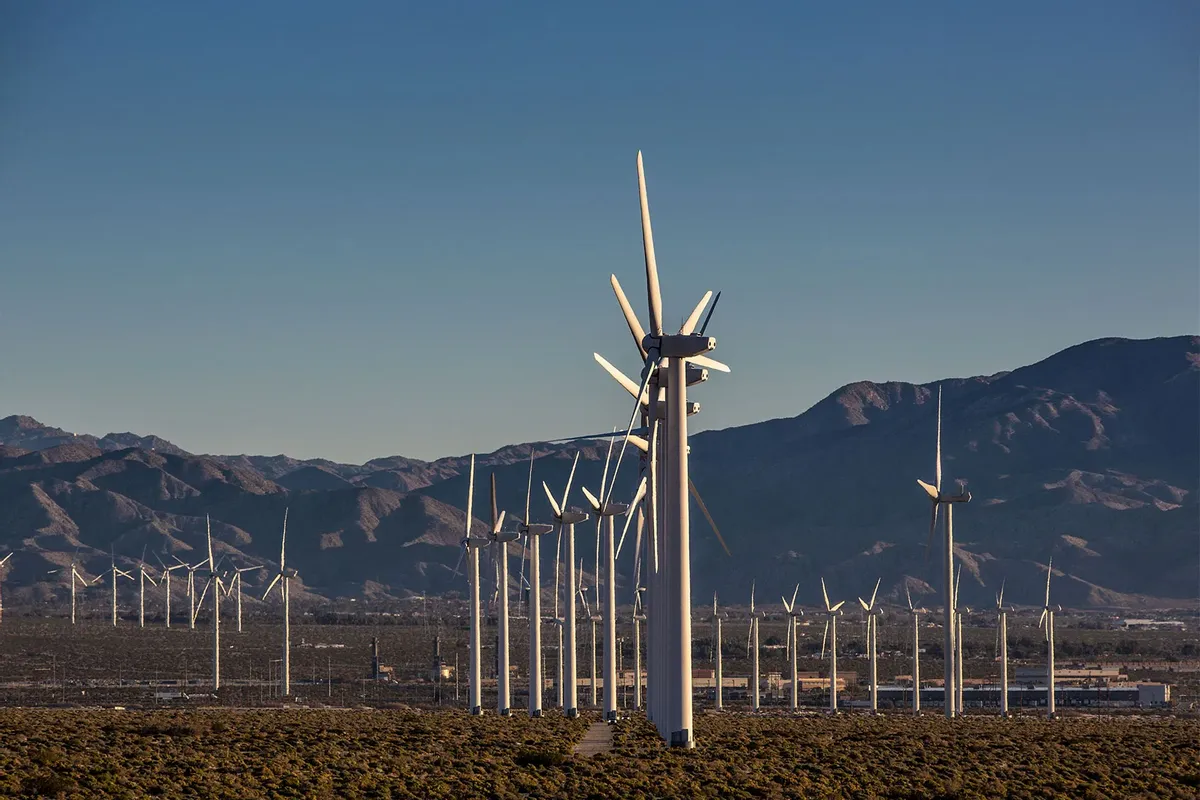 Wind energy is electricity produced by the natural flow of air in the earth's atmosphere. As a renewable resource that does not deplete with use, its impact on the environment is much less than burning fossil fuels.
Wind energy can be created using a few 2.5 metre long sails, positioned to catch the prevailing wind, which can turn the stone and grind the grain (the windmill). Or it can be an elaborate design, such as a 46-metre-long blade that spins a generator to generate electricity, which is stored in a battery or incorporated into a power distribution system. There are even wind turbines without blades.
Wind energy provides 6% of the world's electricity needs. Wind energy is growing at a rate of 10% per year and is an important part of most climate change and sustainable development plans in several countries, including China, India, Germany and the United States.
Types of wind energy
Wind energy. Large-scale wind projects are designed to be used as a source of energy by utilities. They are similar in scope to coal- or natural gas-fired power plants. Turbines larger than 100 kilowatts are usually installed in multiple units to provide maximum capacity.
Offshore wind. These are typically utility-scale wind power projects located in coastal waters. They can generate the energy needed to power large cities (which in most of the United States are concentrated near the coast). According to the US Department of Energy, wind blows more strongly in coastal areas than on land. The potential for offshore wind energy in the United States is more than 2,000 gigawatts of energy, twice the generating capacity of all US power plants. According to the International Energy Agency, global wind power could provide 18 times more energy than is currently used.
Small-scale or distributed wind power. This type of wind energy is the opposite of the previous examples. It involves small wind turbines that are used to meet the energy needs of a particular location or area. Sometimes these turbines are connected to the power distribution grid and sometimes they operate autonomously. Small units (5 kilowatts) can meet some or most of a household's needs, depending on climate and size (20 kilowatts or so). Located in industrial or public facilities, these units are part of a renewable energy system, which may also include solar, geothermal or other energy sources.
Advantages and disadvantages of wind energy
Pros:
If well sited, wind power can produce cheap and environmentally friendly electricity 90% of the time.
A wind power plant produces minimal waste, there is also no need for a water supply to cool the equipment and there is no waste water.
Once installed, wind turbines have low operating costs.
It is a flexible technology: a small turbine can power a house or farm, a large turbine for industrial needs, or a fleet of giant turbines to create a power plant-level energy source for a city.
Cons:
Wind stability can vary. Also, winds that are too weak or too strong will cause the turbine to shut down.
Turbines can be noisy, depending on their location, and some people do not like the way they look.
Wind turbines harm wildlife, especially birds and bats.
Wind turbines have a high initial cost, but pay for themselves relatively quickly.
You may also like: